People arriving in England from abroad will be soon able to reduce their quarantine by more than half if they pay for a Covid test after five days, the transport secretary has announced.
The rules will come into force from 15 December and the tests from private firms will cost between £65 and £120.
Under the new travel rules, passengers who arrive from a foreign destination not on the government's travel corridors list will still need to enter self-isolation. However, if they pay for a test after five days and it comes back negative, they will no longer need to self-isolate.
Results will normally be issued in 24 to 48 hours. This means people could be released from quarantine six days after arrival.
CEO of the Business Travel Association Clive Wratten, commented on the recent Department of Transport Announcement of a 5-day test for travellers returning to England urging the government to introduce pre-departure tests for all passengers. :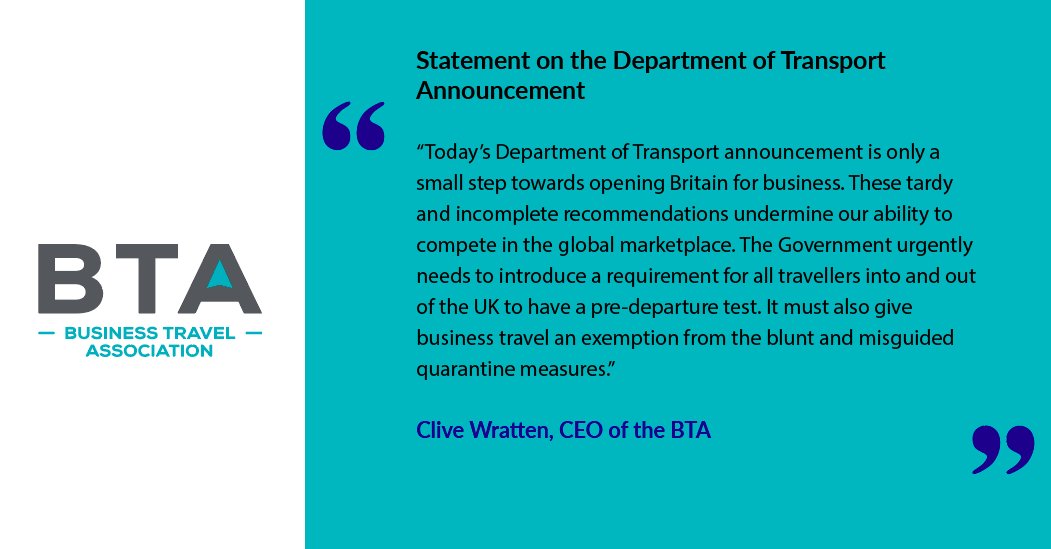 Airlines are also welcoming the idea describing the government's decision to ease the quarantine regime as a step in the right direction as they try to put measures in place to reduce the spread of Coronavirus at various touch points.
British Airways have achieved SKYTRAX Covid-19 Rating.
British Airways is proud to be one of the first airlines in the world to be given a 4-star covid-19 rating by Skytrax. This clearly demonstrates confidence in the safety and hygiene measures put in place to help reduce the spread of Coronavirus and reassure customers.
The COVID-19 Airline Safety Ratings evaluate airport and onboard standards, to determine how effectively COVID-19 enhanced systems and procedures are performing.
Airport assessment includes check-in services and facilities, airline lounges, boarding procedures, deplaning procedures, baggage claim, arrival, and transfer options. The airport service elements cover all airline provided options, not areas under direct control of the airport operator. Aside from the cleanliness objective, this evaluates service processes for reducing customer and staff contact wherever practically possible. Onboard, cabin cleanliness heads up the analysis for all common surface contact areas, customer and staff use of face masks and PPE, and protocols to control this, adapted cabin service procedures including catering, in addition to assessing amenities and cleanliness of essential comfort items.
This is a small step forwards in re-opening Britain for business and Good Travel Management welcomes any measures which can help Business Travellers feel safe and confident as they travel.
We recently ran a twitter poll to ask the following question:
"Would reducing the quarantine period to 7 days make you more inclined to travel for business?"
From the results above, the 78.6% of respondents said that reducing the quarantine would make them more inclined to travel - meaning this announcement will be welcomed by the Business Travelling community.
*Information from taken from bbc.co.uk and The BTA.